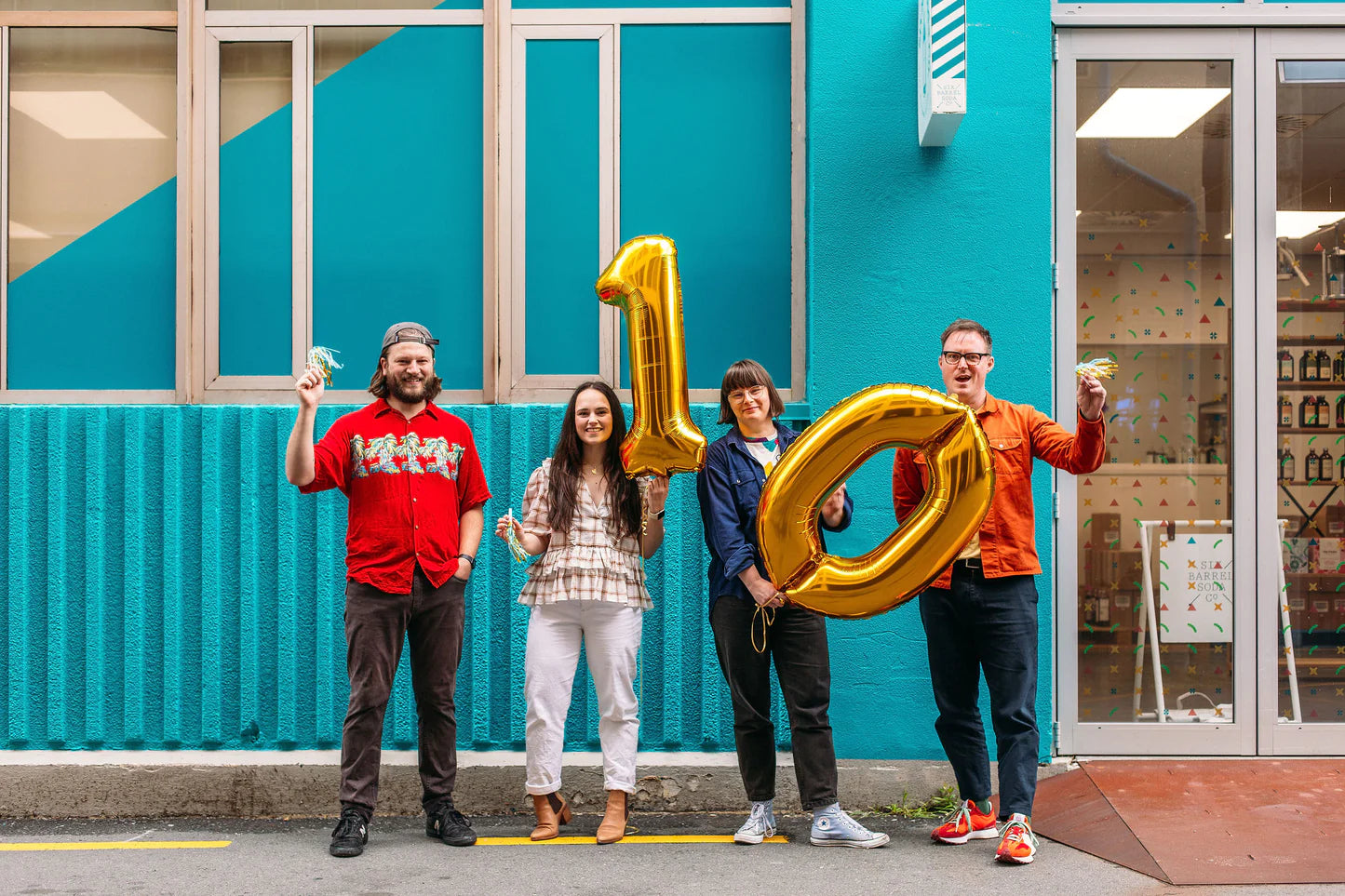 OUR STORY
Pals since the 90s, Joe & Mike have shared years of questionable fashion choices and ridiculous business plans. In 2012, they were mixing drinks in their Wellington dive bar - but they couldn't find a decent cocktail syrup for the life of them. 
After some dodgy batches and plenty of experimenting, they discovered the perfect formula for delicious real fruit syrups that worked in cocktails, mocktails, or as a soda. This is how Six Barrel Soda was born, and how the soda industry became forever shaken up for the better. 
For 10 years, we've been making experimental soda syrup batches and flavours that pop in our Wellington soda kitchen. We have grown to a small team of soda lovers who make wonderful drinks worth savoring. Our drinks are made with real ingredients, like New Zealand citrus, organic ginger, Central Otago cherries, and Fair Trade organic cane sugar. Our drinks are free from preservatives and artificial sweeteners, colors and flavors, and contain around 30% less sugar than most sodas.
We're also committed to being a force for good in the food & beverage industry. Soda was originally made to order in soda fountains and drug stores in the USA and many other communities have traditions of mixing drinks for special occasions. Somewhere along the way we became accustomed to sculling back drinks from plastic bottles whenever we want. But it doesn't need to be that way. From 100% recyclable packaging to a bottle return scheme. 
We are Living Wage Accredited, Independently NZ owned, one of Cuisine Magazine's '100 Tastes of NZ' and Winners of the NZ 2021 Artisan Awards for non-alcoholic drinks. The rest of the world is catching on too, with our syrups and sodas now being enjoyed in Australia, Japan, United States, Hong Kong, Canada and more coming soon.